Bulk WhatsApp Sender Guide
Signup
Create your free trial account first to get hands on experience of all our Bulk WhatsApp Sender marketing tool
Visit https://app.cloudwasender.com/signup
Enter your Name, Email and Password to create free trial account. You will receive email verification link on your email ID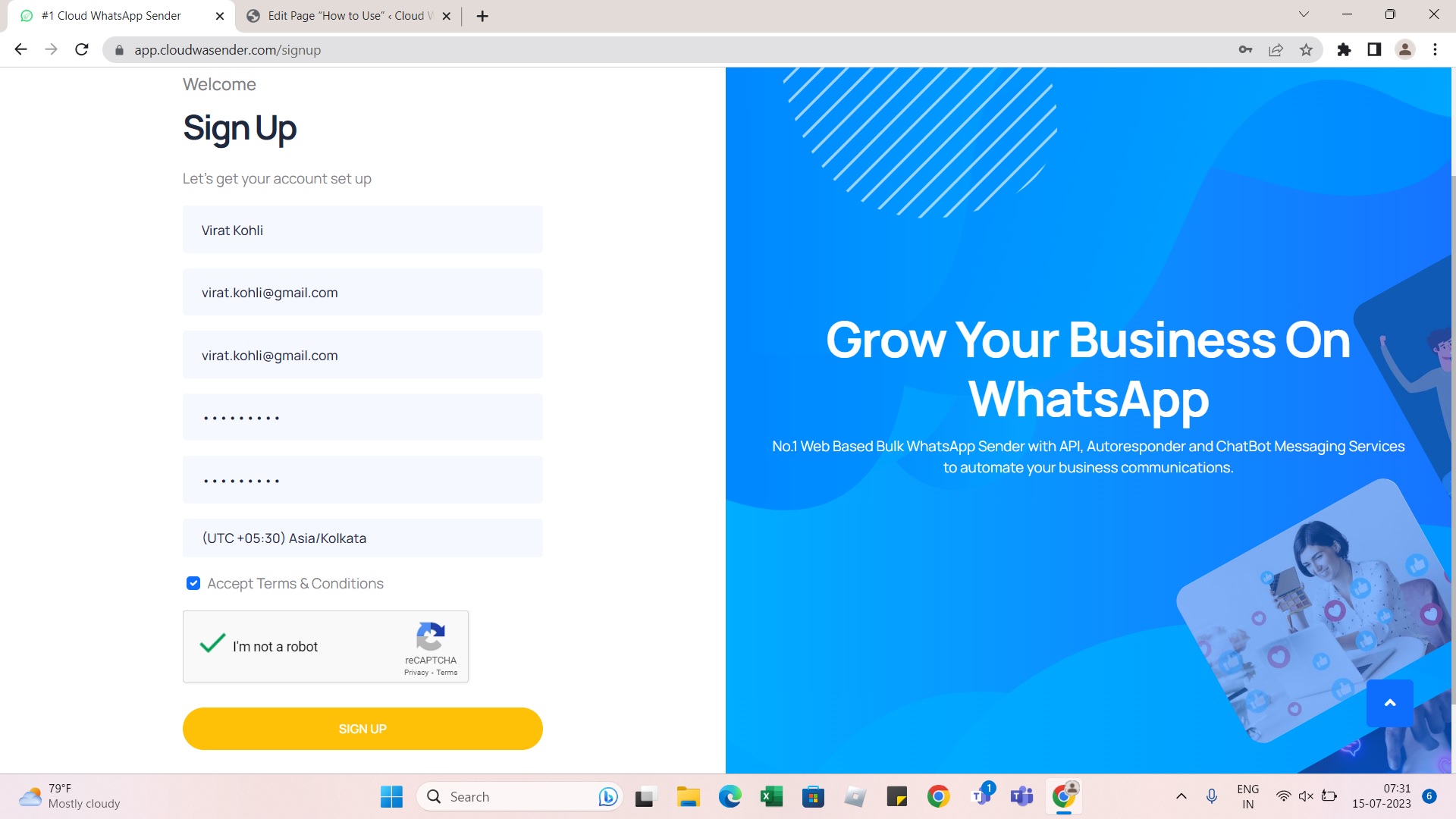 ---
Login
Visit https://app.cloudwasender.com/login to login to your existing account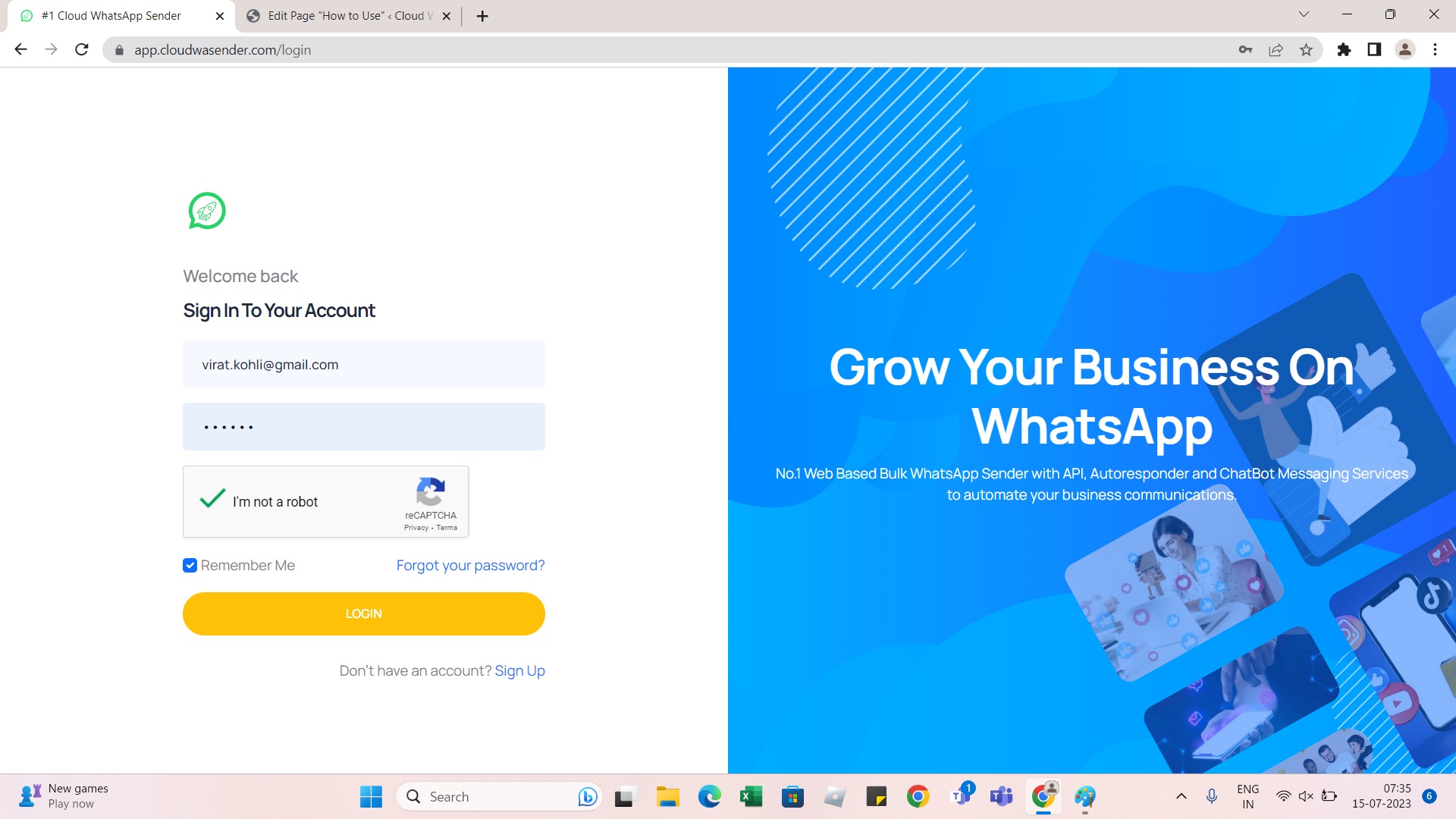 ---
Plan Validity
On top right you will be able to see your subscription validity date and upgrade option
---
WhatsApp Menu
On left side bar you will find a WhatsApp menu, click on it to open the panel and add your WhatsApp account, view reports, create WhatsApp campaigns, upload contacts and lot more
---
Link Mobile Number
Click on + Add Account button to scan and link your WhatsApp Number
You can use both WhatsApp for Individual and WhatsApp for Business
You will see your unique QR Code, scan the same to link your WhatsApp number
---
Import Contacts
Now click on Contacts menu to import contacts to whom you want to send bulk WhatsApp Messages
Click on + button to create new contact Group/List/Segment in which you can import and store all the contact numbers to whom you want to send Bulk WhatsApp messages
Group/List/Segment helps you to manage and organize your targeted list of contacts for WhatsApp campaign
You can create multiple contact Group/List/Segment
Once Group/List/Segment is is created, click on it to import the contacts
You will get 2 options to import contacts as shown below 1) Import via CSV file 2) Copy Paste
You can download the sample CSV file format to upload your contacts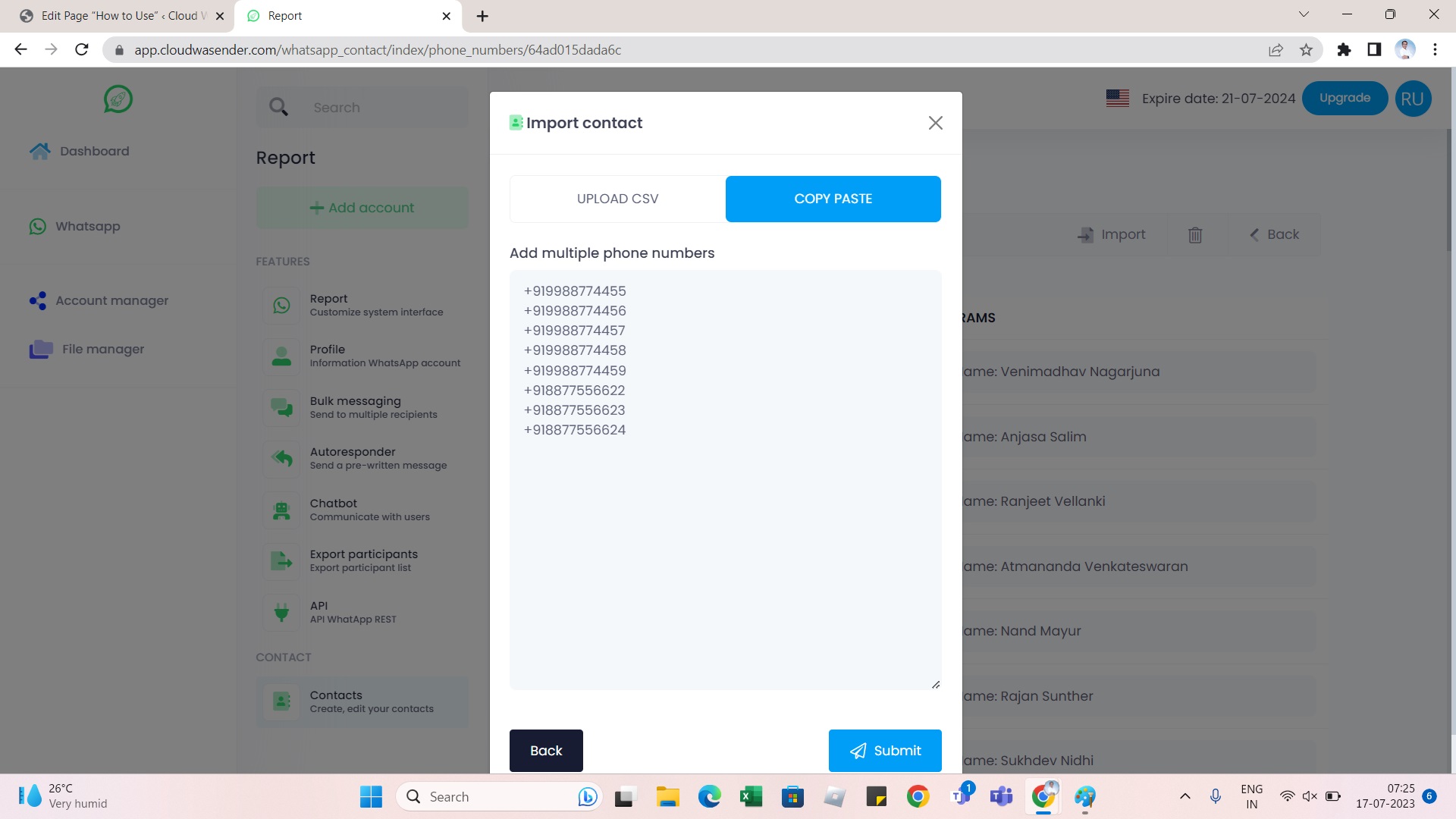 ---
Bulk WhatsApp Messaging
To send bulk WhatsApp messages, navigate to the Bulk Messaging menu as shown in below snapshot;
Click on the + button to create new bulk WhatsApp campaign as showing in below snapshot;
Choose the linked WhatsApp number from the list via which you want to send Bulk WhatsApp messages
Messages sent via this number will be also shown in your mobile WhatsApp number automatically when they are sent
Enter your WhatsApp campaign name here
You can give any name of your choice that help you to identify in report later
Choose the contact group/list/segment here from the dropdown to which you want to send the bulk WhatsApp campaign
Choose any media like image, pdf file, video, etc that you wish to send with your WhatsApp messages
Keep size of your media file lower to deliver messages faster and avoid your mobile device getting hang
In caption you can type or copy paste the message that you wish to send
You can use emojis here
You can personalize each messages by adding %Name%, %Param1%, %Param2% and so on depending upon the data you have uploaded while creating contact group/list/segment
You can the message as a template and reuse in future to save typing efforts
You can use URL Shortener to auto short any link exist in your message
You can use all the WhatsApp supported formatting options like *, _, Bold, Italic, etc
You can send your campaign instantly or schedule it to send automatically on a predefined date and time
Choose minimum and maximum seconds to keep delay between 2 messages
Recommended is minimum 3 seconds and maximum 5 seconds but you can choose as per your requirements
You may define timeframe when scheduled messages to be sent
You can leave it empty to send messages instantly without any schedule
Once you are done with above steps and verified all the steps twice…..you can hit the button Send or Schedule to start delivering your WhatsApp messages
---
Auto Responder
You can create your own auto responder message that will be sent to the contact automatically when they send you a message
This feature is similar to the feature available in WhatsApp for Business
You can define resubmit delay by when next auto responder should be sent to the same contact
You can even exclude contacts of your choice to whom you don't want to send the auto responder message
---
WhatsApp ChatBot
WhatsApp ChatBot is the amazing feature of our application. It helps you to create chatbot based on your business requirements.
You can preconfigured the common keywords based on the common questions that your customer asks frequently and your chatbot will auto respond them accordingly without your active presence.
Once configured, you can add WhatsApp button on your website and simplify the customer communications.
Click on the ChatBot menu to start setup as shown in below snapshot;
Click on the + icon to add new answering bot based on the keywords of your choice;
Here you may define one or many keywords that your customers ask frequently and you wanted to set auto respond your answers based on these keywords.
In caption you can define your message that will auto sent based on the keywords you have defined in above step;